Merry Christmas And A Happy New Year!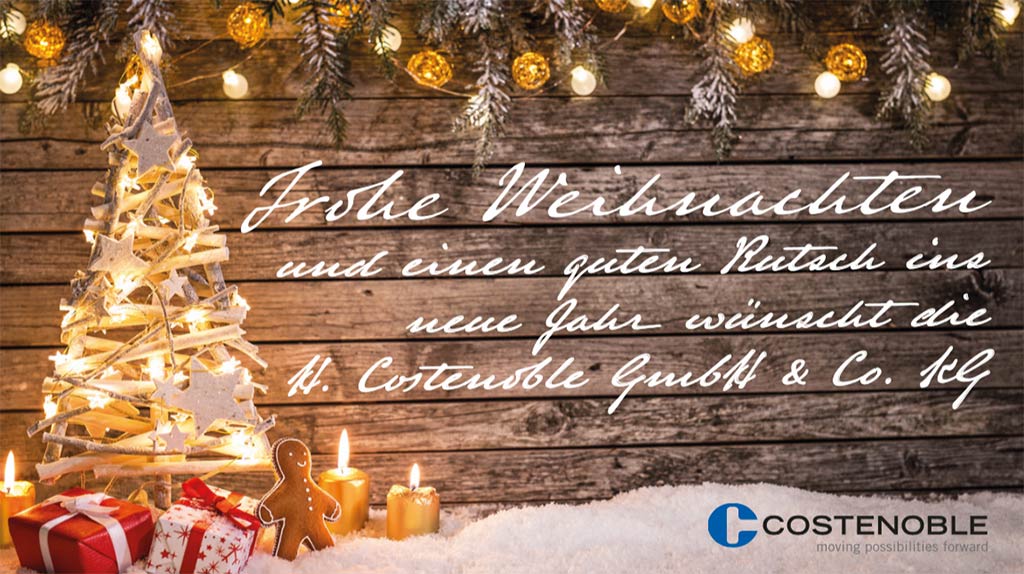 With the end of the year approaching we would like to thank you for our successful and pleasant cooperation in 2019.
We are looking back on an exciting and eventful year. One of our focuses was our presence at several trade fairs and we would thank you for having visited us there.  Another priority was also given to the strengthening of our team. With a new sales representative and two new product managers for the series Krytox®, BioBlend®, Tectyl® und JAX® we are optimally prepared for future challenges.
For the coming year we have set ourselves ambitious targets and we are looking forward to meeting you again on numerous fairs. In addition to that we are focusing on the digitization of our operations. In the course of this we would like to advise you again of our social media channels on LinkedIn, XING and Twitter. Just come over and have a look.
We, the Costenoble team, wish you and your family a smooth end of the year, a reflective Christmas season and a happy new year 2020 with good health, much luck and success.
Zusätzliche Informationen:
> The entire Costenoble team wishes you a Merry Christmas and a Happy New Year.
> Please note our company holidays from 23.12.19 to 03.01.2020. From 06.01.2020 we will be available again as before.
> back to the News section