New colleague in the Costenoble-Team
Since 1 June 2019 Mr. Philipp Schreiber has been strengthening our team. As a product manager for Krytox™ and OSIXO™ products he will be a decisive factor for a more rapid and efficient internal workflow.  Mr. Schreiber is in charge of the documentation and communication with the manufacturer and the suppliers and will further optimize the existing process chain. Furthermore, Mr. Schreiber will support the development of new OSIXO™ products and works closely together with our sales-team to ensure more rapid and better results so that our customers will profit from significantly improved communication and processes in the future.
Mr. Schreiber's professional experience results from his former work at ThyssenKrupp Aufzüge.
After training as a mechatronics technician, he initially worked as a service technician and then decided on further training as a state-certified technician (mechanical engineering). Following his further training as a state-certified technical business economist, he switched to sales at ThyssenKrupp Aufzüge.
Dort war er nach seiner Ausbildung zum Mechatroniker zuerst als Service-Monteur tätig und entschied sich danach für eine Weiterbildung zum staatlich geprüften Techniker (Maschinenbau). Mit der anschließenden Weiterbildung zum staatlich geprüften technischen Betriebswirt wechselte er bei ThyssenKrupp Aufzüge in den Vertrieb.
During his spare time Mr. Schreiber likes to relax and regenerate with CrossFit, while hiking or playing volleyball.
We are looking forward to the further cooperation with Mr. Schreiber.
Additional information: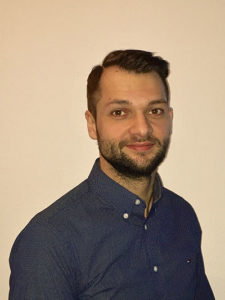 > back to the News section