Consumer products of the COSTELAN series
The COSTELAN series provides an extensive range of high quality maintenance and care products for motor vehicles, camping, water sports, leisure and outdoor activities. They include both impregnating agents, cleaners and care products as well as products for maintenance and repair. The COSTELAN series is based on products that have already been successful for many years in all leisure areas and are used in industrial segments. Supplemented with innovative and proven products from partner companies, we have compiled a product range that people like yourself look for.
The high-quality products in the COSTELAN series have been specially developed for the care of motorhomes and caravans, cars and motorcycles, sailing boats and motor yachts, bicycles and motor scooters, tents and clothing.
COSTELAN Impregnating Agents
protect textiles against wetness and ingress of moisture.
Impregnating means treating a fabric with a suitable agent so that it does not absorb water and does not allow it to pass through. This operation is also called hydrophobing. A difference is drawn here between a water-rejecting effect and a water pressure resistant effect. In the first, the fabric allows no water through. In the second, the fabric is also protected against water that is pressured onto the fabric. The degree of protection against water under pressure is given in the so-called water column. This unit corresponds to the hydrostatic pressure of water at a depth of 1 metre.
Most impregnating agents are applied by means of an immersion bath or with a sponge or brush onto the fabric. Sprays can also be used for smaller areas or post-impregnating. Another mode of action is the so-called wash-in. They are added to the fabric that is to be treated in the washing machine and release their hydrophobic effect under influence of temperature.
The common impregnating agents consist of a paraffin or wax emulsion or from silicone or fluorocarbon compounds. These all have different advantages and disadvantages and are suitable for the widest possible range of applications and fabrics. Water or a solvent is used as carrier material for the actual impregnating agent. Solvent-based impregnating agents dry more quickly and have as a rule a better and finer distribution over the fabric. Impregnating agents with a water base have, on the other hand, are more environmentally friendly, less dangerous in use and can be kept longer when left open.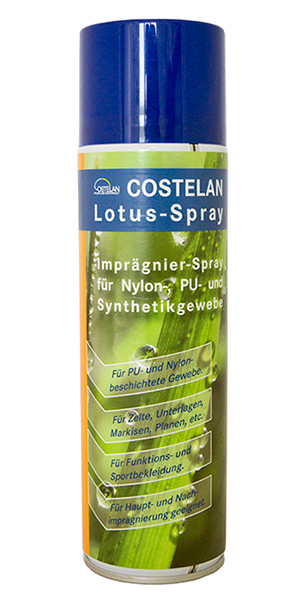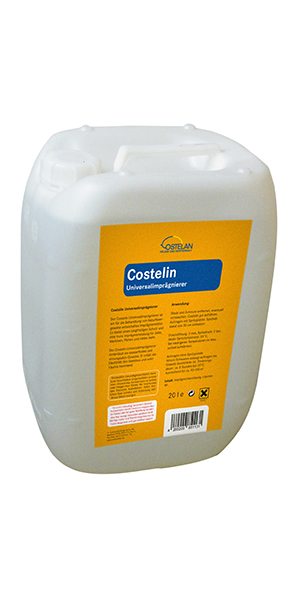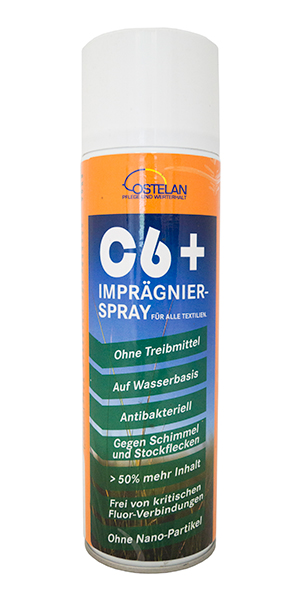 COSTELAN Cotton Fabric Impregnation Concentrate
The COSTELAN Cotton Fabric Impregnation Concentrate is developed especially for the treatment of natural fibre fabrics such as cotton or linen. The impregnating agent that has proved itself over the years has a long-term effect which provides for a water-resistant and breathable fabric. COSTELAN Cotton Fabric Impregnation Concentrate maintains the natural haptic of the fabric.
COSTELAN Cotton Fabric Impregnation Concentrate
The high quality COSTELAN Synthetic-Impregnation Concentrate is a special impregnator for synthetic materials. It makes the treated material rainproof and maintains the elasticity and breathing activity. COSTELAN Synthetic Impregnation Concentrate possesses an extraordinarily pronounced long-term effect and provides a reliable drip-off effect.
COSTELAN Lotus Impregnation Spray (formerly COSTELAN Nylon and PU Impregnator)
COSTELAN Lotus Spray is a special impregnating agent for PU and nylon-coated fabrics. It is suitable for both sportswear and tents. COSTELAN Lotus Spray has a water repellent and colour refreshing effect. It increases the lifetime and does not attack viewing windows or decorations.
COSTELAN Costelin Universal Impregnator
THE solvent-based impregnation agent. It is suitable for natural fibre fabrics; provides a very fine wetting and high impregnation performance.
Fabrics treated with COSTELAN Costelin are watertight, breathable and remain elastic. Suitable for industrial processing.
COSTELAN C6 Plus Impregnation Spray
The COSTELAN C6 Plus Impregnation Spray is water-based and manufactured without propellant gas. The active component is in a bag inside the can. Pressing the spray head causes compressed air in the can to eject the effective component. A filling without propellant also ensures that only pure effective component is in the can. Conventional aerosols on the other hand have up to 75 % propellant.
COSTELAN Cleaner
From specialists to all-rounders
Cleaning agents are used for the removal of contamination from surfaces. These can be divided roughly into three categories: Acidic cleaners use various acids such as citric and acetic. These are used for example in removing calcareous deposits.
Alkaline cleaners use alkaline solutions, sodium hydroxide for example, for dissolving oils and grease-containing contaminants.
In the pH neutral region, surfactants are used which lower the surface tension of the water, infiltrate contaminants and so detach them from the surface or the fabric. Most universal cleaners fall into this category. Many cleaners also use solvents or alcohols.
Cleaners often contain combinations of several wash-active substances. A suitable cleaning agent can be found from the various combinations for almost any contamination. There is a suitable cleaning agent for every application: Glass cleaners, for example, often use alcohols that quickly evaporate to prevent streaks. These alcohols can however attack plastics such as acrylics and make them porous, in which even more-dirt can gain a foothold. A "normal" glass cleaner should therefore never be used for cleaning acrylic glass.
It generally applies: the more aggressive the cleaning agent, the greater is also the danger of damaging the surface or the fabric. If possible, the desired cleaning performance should always be achieved by long application times, i.e. a longer exposure time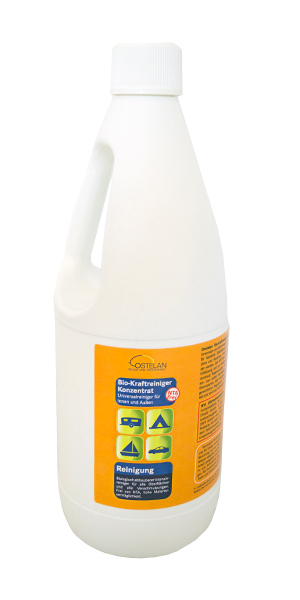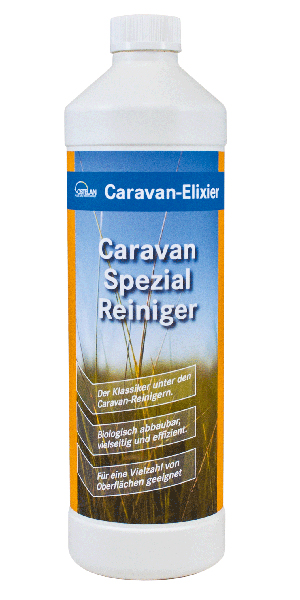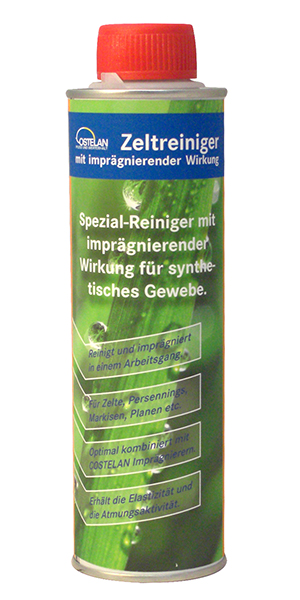 COSTELAN Acrylic Glass Cleaner
COSTELAN Acrylic Glass Cleaner is an effective, mild cleaner for acrylic glass panes, tiles, headlights, painted areas, mirrors and many other applications. Its antistatic effect reduces considerably the adhering of dust particles. The COSTELAN Acrylic Glass Cleaner takes effect quickly and is biodegradable.
COSTELAN Bio Power Cleaner Concentrate
COSTELAN Bio Power Cleaner Concentrate is a biodegradable intensive cleaner with powerful cleansing strength. An advantage of COSTELAN Bio Power Cleaner Concentrate is its wide area of application and the possibility of optimising it using different mixing ratios for individual applications.
The recommended mixing ratios range from 1:5 for the removal of heavy dirt on, for example, wheel rims and metal parts to a mixing ratio of 1:100 for the gentle cleaning of lightly soiled, sensitive surfaces, laminate floors for example. The biodegradable COSTELAN Bio Power Cleaner Concentrate is suitable for all smooth and rough surfaces: laminates, metals, plastics, glass, stone and ceramics, for example.
COSTELAN Caravan-Elixir
COSTELAN Caravan Elixir is the classic among the caravan cleaners. It has been popular with campers for decades and has proved itself countless times.
The biodegradable special cleaner for cleaning the outside the surfaces of caravans is ideal for the removal of rain streaks, pollen and bird droppings. The fast-acting COSTELAN Caravan Elixir is also outstandingly suitable for the cleaning of polyester, paint and aluminium surfaces as well as numerous other applications for caravans, cars, tents and boats. It produces a fine gloss, freshens up colours and has an antistatic effect.
COSTELAN Tent Care Cleaner
COSTELAN Tent Care Cleaner is a special agent for simultaneous cleaning and care of plastic and textile materials. It does not attack rubber, perspex or paints. The high-quality COSTELAN Tent Care Cleaner has no problem in removing soiling and cares for the cleaned fabric the same time. The cleaned fabric stays dust-free for a longer time thanks to its antistatic effect.
COSTELAN Tent Cleaner "2 in 1"
COSTELAN Tent Cleaner "2 in 1" is a post- impregnating cleaner for tents, awnings, tarpaulins, covers for garden furniture and many other things. It freshens up the colours and keeps the natural elasticity and breathability of the fabric. The impregnating effect reduces the amount of moisture absorbed by the treated fabric. This reduces the risk of mould stain.
Other COSTELAN products
In addition to the cleaners and impregnation agents, there are also products in the COSTELAN series for maintenance, repair and value preservation of caravans and motorhomes, boots, cars and tents. When selecting products, we pay attention to functionality and reliability, also to the employment of environment-friendly raw materials.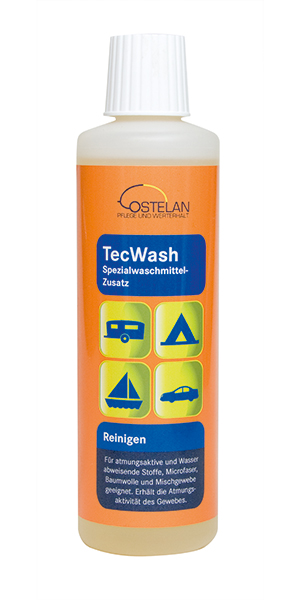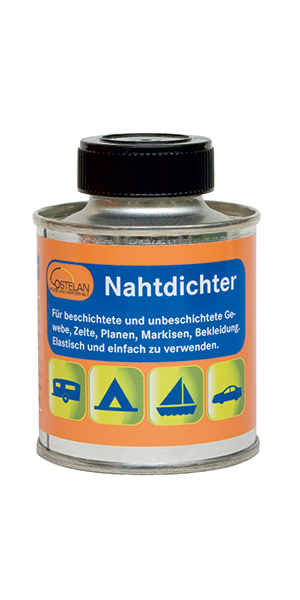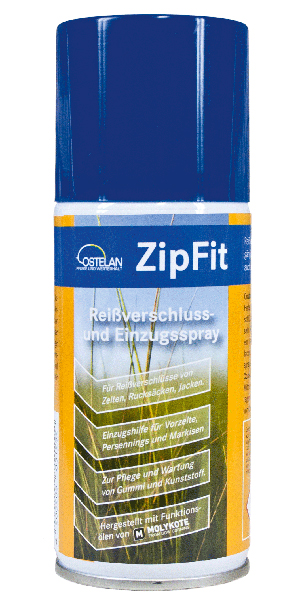 COSTELAN TecWash
COSTELAN TecWash is a special washing agent for breathable, water-repellent functional textiles, synthetic fabrics, cotton and all types of mixed fabrics. It ensures cleanliness deep into the fibres and keeps the treated textiles breathable. COSTELAN TecWash is kind to fabrics and free of phosphates.
COSTELAN Seam Sealer
COSTELAN Seam Sealer provides a durable seal and impregnation of seams and thread penetrations. It is very simple to use, thanks to its screw cap with integral application brush.
COSTELAN ZipFit
COSTELAN ZipFit is the small, practical helper for on-the-move. It makes jerky or jammed zip fasteners as easy to move as on the first day. Because of its unique formulation, it leaves no stains and penetrates deep into the interlinking of the zip fastener. Regardless of whether as zip fastener spray for functional jackets, tents and rucksacks or as penetrating spray for tent awnings, marquees and spray hoods, COSTELAN ZipFit is the handy and effective choice.
COSTELAN ZipFit is the small, practical helper for on-the-move. COSTELAN ZipFit is also the indispensable helper for before and after the storage of sleeping bags, tents, marquees, tents, tarpaulins and spray hoods. It is also optimally suitable as care product for rubber and plastic seals and applications.
The benefits at a glance:
– Proven over many years – suitable for many applications
– Handy and compact, the the ideal companion for out and about
– Easy to store in the glove compartment, rucksack, on the boot or in the caravan
– Leaves no stains, suitable for almost all fabrics
– Can be used both for new zip fasteners (preventive) and also subsequently to restore the full functioning of one that has been used.
– Manufactured with original Dow Chemicals® Molykote™ functional oils