DGE – Smart Specialty Chemicals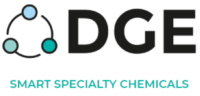 DGE – Smart Specialty Chemicals is a key player in marketing and distributing premium speciality chemicals finished products. Founded in 1996 by several European chemical distributors, the company has grown to become a market leader in Lubricants, Adhesive & Sealants, Encapsulants & Electronic protection.
Established throughout 27 countries, and with more than 200 sales professionals into the marketplace, we offer the most compelling local presence.
Our digital platform and advanced logistic model provides "state of the art" services and operating facilities which enable our customers to boost their business performance. At local level, end clients benefit from the best standards of quality in terms of technical guidance, storage, delivery, aftersales operations and F & A services.
Our market intelligence program provides suppliers, shareholders and members with access to up-to-date and detailed analytics to connect them to more than 80,000 end users across Europe.
Products from DGE:
> More informationen about Tecnite® Products
> More informationen about Tecnite® Adhesives and Sealants
News from DGE:
More information about DGE – Smart Specialty Chemicals can be found on the DGE-Blog.
https://www.costenoble.de/wp-content/uploads/2018/09/DGE-logo-2018-1.gif
> back to the Manufacturers
Our European Specialty Chemical Network:
https://www.costenoble.de/wp-content/uploads/2018/07/Antala-dge-spain-portugal-uk-1024×680-300×199.jpghttps://www.costenoble.de/wp-content/uploads/2018/07/atf-dge-russia-1024×680-300×199.jpghttps://www.costenoble.de/wp-content/uploads/2018/07/costenoble-dge-germany-1024×680-300×199.jpghttps://www.costenoble.de/wp-content/uploads/2018/07/credimex-dge-switzerland-1024×680-300×199.jpghttps://www.costenoble.de/wp-content/uploads/2018/07/diatom-dge-denmark-1024×680-300×199.jpghttps://www.costenoble.de/wp-content/uploads/2018/07/endustri-tecnik-dge-turkey-1024×680-300×199.jpghttps://www.costenoble.de/wp-content/uploads/2018/07/ga-lindberg-chemtech-dge-sweden-1024×680-300×199.jpghttps://www.costenoble.de/wp-content/uploads/2018/07/Lindberg-and-lund-dge-norway-1024×680-300×199.jpghttps://www.costenoble.de/wp-content/uploads/2018/07/mascherpa-logo-300×199.jpghttps://www.costenoble.de/wp-content/uploads/2018/07/mavom-logo-300×199.jpghttps://www.costenoble.de/wp-content/uploads/2018/07/mercouris-dge-greece-1024×680-300×199.jpghttps://www.costenoble.de/wp-content/uploads/2018/07/Samaro-dge-france-1024×680-300×199.jpghttps://www.costenoble.de/wp-content/uploads/2018/07/tewipack-dge-germany-1024×680-300×199.jpghttps://www.costenoble.de/wp-content/uploads/2018/07/texma-dge-israel-1024×680-300×199.jpghttps://www.costenoble.de/wp-content/uploads/2018/07/ulbrich-dge-austria-1024×680-300×199.jpghttps://www.costenoble.de/wp-content/uploads/2018/07/ytm-dge-finland-1024×680-300×199.jpg